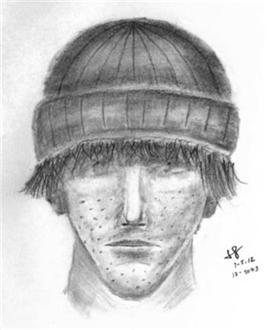 Via Jaryd Wilson at fox21news.com:
Colorado Springs Police officers have released a sketch of the man who was caught masturbating in a women's restroom earlier this month.
The story goes that on July 2, a woman walked into the restroom of an office building in Colorado Springs only to be grabbed by a man who was masturbating. She was able to get away, but the alleged sex offender managed to escape in a white 2007 Hyundai Sonata with Colorado license plate 865 TOA before he could be apprehended. The car had been stolen earlier in the morning.
Also according to Wilson:
the woman said he is in his late 20s to early 30s and is 6′ – 6'2″ tall. He has a thin build with "scraggly curly" medium-length light blonde hair. The woman said he also has "meth marks," or acne on his face.
In my opinion the sketch resembles every 14 year-old boy who ever lived, but if you recognize the suspect, or have any tips on the case, contact the Colorado Springs Police Department.
Related articles
Content Managing Editor Nic Turiciano is a senior journalism major. He writes about music, film, pop culture and all things associated with leisure. He began at the Collegian in the fall of 2009, is the former local director for 90.5 KCSU Fort Collins and contributor for www.theawl.com. He can be reached at entertainment@collegian.com.