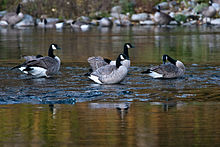 H5N1 is  two steps closer to causing mass hysteria (again.)
That's because, according to Kate Kelland's article at Reuters, laboratory tests of the H5N1 virus showed that it needed to go through five mutations in order to be transmissible between mammals. Now that two of those mutations have occurred outside of the lab, scientists and authorities are weary.
Apparently all birds are potential carriers, but as a CSU student, I know that when the pandemic hits it'll be those pesky geese that'll get us all sick.
Scientists all but say that the pandemic is inevitable, so next time you see a goose on the CSU campus, think twice before chasing after it.
Related articles
Content Managing Editor Nic Turiciano is a senior journalism major. He writes about music, film, pop culture and all things associated with leisure. He began at the Collegian in the fall of 2009, is the former local director for 90.5 KCSU Fort Collins and contributor for www.theawl.com. He can be reached at entertainment@collegian.com.